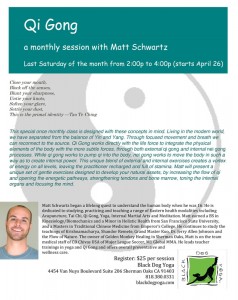 Qi-Gong is a system of exercises for cultivation of Qi.
(Qi) can be translated as energy and (Gong) as practice.
There are many different types of Qi-Gong systems with different goals:
Medical Qi-Gongs designed to improve health in general or to target a
particular disease or internal organ
Martial Qi-Gongs designed to increase internal power or to condition the body
Taoist or Buddhist Qi-Gongs which aim to promote spiritual growth
Sexual Qi-Gongs to increase the sexual energy or increase the range of sensations
There are many more such types and each in turn has a large number of different variations. One analogy would be to think of Qi as music and the different types of Qi-Gong as different musical instruments. The subject matter is the same but the way it is approached can vary. The Internal Martial Arts themselves are a type of Qi-Gong.
Private sessions are available: Make an Appointment
---
Internal Arts: All of the internal martial arts rely for their effectiveness on internal power – the power cultivated by the alignment and coordination of the whole body and will. Essentially martial in nature, these arts are practiced by most people for their health-giving properties rather than just for self-defense.
Ultimately, each of us has our own path in life and the practice of Internal Martial Arts can help us find this path and give us the ability and health to travel it to its fullest.